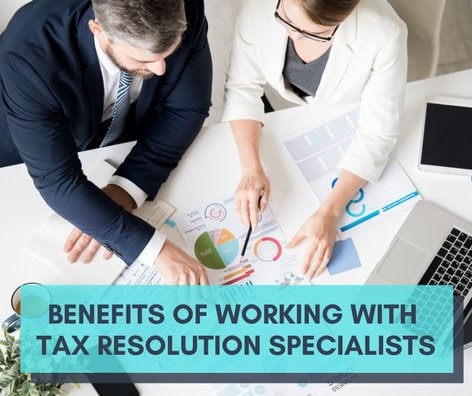 Tax resolution specialists are lifesavers when you are drowning in tax debt. One mistake in your federal or state tax returns can evolve into a serious tax problem. These situations are made worse by the fact that dealing with the IRS can be very intimidating. It doesn't come as a surprise that 11 million taxpayers were behind on their taxes in 2019. Fortunately, you don't have to go to it alone. Our tax resolution specialists can help you make your tax problems a thing of the past. Their vast experience in tax matters and unique insights will be at your disposal.
Professionals at Interpreting Tax Law
Let's face it, most individual tax problems are due to how little people understand tax laws. The US Federal Tax Code alone is thousands of pages. The tax code contains four times more words than the entire Harry Potter book series at four million words. It also doesn't help certain tax laws and filing instructions keep changing every year.
Although the IRS has tried to make all the information available on their website, the legalese will leave you more confused. Our tax resolution professionals make it their business to understand every word of the tax code. For instance, IRS Enrolled Agents have to pass the Special Enrollment Examination. Getting accredited requires professional experience and sitting CTRS exam. After going through this process, there is no tax problem beyond their grasp. Once the problem is explained in terms you understand, our tax expert works with you to find a favorable remedy.
Tax Resolution Specialists Mediate with the IRS
Working with our tax resolution specialists means you don't have to deal with the IRS directly. Most official communication today is done via email. Unfortunately, the IRS considers emails unsafe for disseminating sensitive information. That means, you will have to call in when seeking to resolve your tax debt. While calling gives immediate feedback, it puts the taxpayer at a distinct disadvantage.
Tax agents working for the IRS know how to ask leading questions that can easily land you in trouble. You may disclose information that will make your tax issue harder to resolve. It is better to leave this task to your tax resolution specialist who knows all their moves. We will provide all the information requested and protect your rights.
Stop Penalties and Interests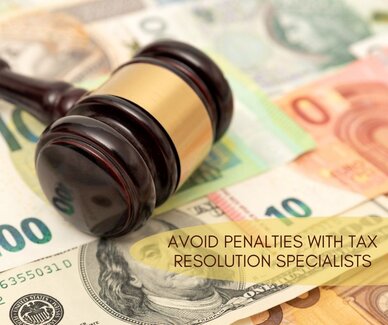 Penalties and interests only add to your tax burden. Our tax experts can use their knowledge of the tax code to wipe off any penalties accrued or minimize their impact. The most common penalties are late filing, payment of taxes, and understating your returns. The good news is that these penalties can be stopped or reduced. Our tax resolution specialists can take a look at your account and determine if you qualify for IRS penalty abatement. This tax resolution option removes all penalties if it's your first mistake.
Another way tax resolution can get you off the hook is by applying for a waiver. For instance, if you missed the filing deadline because of a natural disaster, the penalties can be cleared with proper documentation. A medical bill may be the proof you need. Even if the entire penalty isn't removed, you may get a partial waiver. Fewer penalties and interest fees make it is easier to focus on the principal tax debt.
Settling Your Taxes for Less
Clearing your tax debt can be or feel impossible when you owe hundreds of thousands of dollars. Our tax resolution specialists can use their knowledge of the tax code to settle that debt for less. The IRS is always open to a settlement if they can recover most of the debt. One popular option is applying for an IRS Offer in Compromise. However, taxpayers need to have a clean tax record of being eligible for IRS OIC. If you have past due individual tax returns, you must file all tax returns that are due. Businesses are required to make federal tax deposits before applying.
The next step is to come up with an offer the IRS won't refuse. Often, only a tax resolution specialist knows this formula and will use it to help you. Once accepted, your tax expert can take it a step further and negotiate for an IRS installment agreement or payment plan if you can't afford a lump-sum payment. Although there is no guarantee the IRS will accept your application, having a tax resolution specialist significantly boosts your chances.
Tax Resolution Specialists Provide Peace of Mind
Owing to the IRS is a stressful affair. You will spend sleepless nights worrying about the consequences. It doesn't get any easier when you begin negotiating without some tax debt help. A mistake when filling any of the forms means you have to start the process all over again. Meanwhile, the penalties and interest continue to pile. Sometimes, you have to follow up on applications to get feedback.
On the other hand, hiring a tax professional means you don't have to directly deal with the IRS and their nuances. All you will have to worry about is reviewing your regular updates on how the matters are going for your tax expert. Your role will be passive, at best. We take over the whole process, make calls, and follow up on any matters. It frees you up to focus on your job and spend time with your family.
Protect Your Assets and Income
The service fee you pay your tax resolution specialists is nothing compared to the cost you incur if things escalate. The IRS has every right to go after your earnings and assets. The good news is that this is usually a last resort. There will be a series of notices warning you about your IRS tax lien or levy. You will also get a warning before they take any further action.
Enlist the services of our tax resolution specialists when you get your first notice. Your assets and income are safe as long as you have an existing payment plan. The worst thing you can do is hide away the notices and summons and hope the IRS will forget. Even if you are currently unable to pay, your tax resolution specialist can help you apply for Currently Not Collectible.
Tax Resolution Specialists Provide Tax Audit Help
Nothing drives fear in the heart of taxpayers like receiving a notice of an audit in the mail. You will be more confident knowing that our tax resolution specialist handled your taxes. Fortunately, the IRS only audits a small percentage of tax returns. An audit typically reviews returns from two years back. The notice will inform the particular areas under review and the documents you need to provide to clear up the matter.
Even if the IRS requests an audit, you won't have to worry about finding your records. Our tax resolution specialists will have your records on file. We can also testify in court should that be necessary.
Hire True Resolve Tax Professionals
We hope you now know the benefits of working with tax professionals. True Resolve Tax Professionals boasts a dedicated team of IRS enrolled agents with years of experience on tax matters. We help businesses and individuals overcome their tax problems. Contact us to schedule a free consultation today and reap the benefits of working with tax resolution specialists.